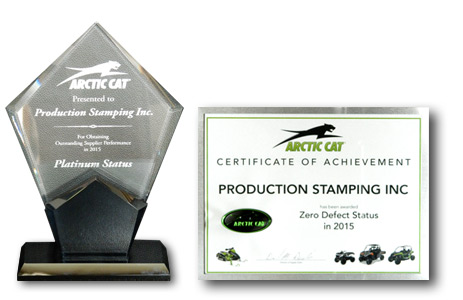 Awards & Testimonials
Production Stamping is humbled by the many customers who have given us accolade and high-marks over the years. Our Company strives to provide the very best in metal fabrication and custom stamping to every customer we serve.
Arctic Cat's Preferred Status Metal Stamping Supplier of the Year and now, "Gold Status" Outstanding Supplier Award
Production Stamping has provided Quality Answers (and Quality Parts) to our friends at Arctic Cat for several years. We are grateful for their business and appreciate the recognition.
In 2014, Production Stamping was awarded the coveted recognition of "Supplier of the Year" from our friends at Arctic Cat.
In 2015, Arctic Cat awarded Production Stamping with an even greater award, achieving their "Gold Status" in the Outstanding Supplier category.
In 2016, Arctic Cat awarded Production Stamping with their coveted "Platinum Status" Award, as well as, their Award for "Zero Defects".
We are all very proud to accept these special awards of recognition— now three years running, consecutively.
Client Testimonials
"
Production Stamping is a first-class organization. Their dedication to the customer is noticed and appreciated. The quality standards are high and their inventory systems are well-organized. Our relationship will be on-going as they are a true metal fabricator that listens, then acts.
"
Medical Device Manufacturer, Minneapolis
"
You have proven to us over and over how deadlines are met and you understand your customers needs like no other metal former. Your stamping capabilities are world-class and we appreciate how you come through for us every time. Keep up the great work.
"
Automotive Engineering Company, Omaha